How Much is My Motorbike Worth?
15th February 2019
We've all been there … looking for a new bike but knowing that we'll need to sell our existing one to fund the purchase. It's all too common, however one of the questions most often asked is 'how much is my motorbike worth?'
On the other hand, if you've got a motorbike that you're no longer riding which is gathering dust in your garage, have you ever considered how much it could be worth? It could be a lot more than you think!

And if you go to try and sell your bike privately, how do you know that you're getting a fair valuation?

It's a question which we're asked on a daily basis, and one which we're only more than happy to answer.

There's a number of different factors which come into play when carrying out a motorbike valuation and it's important firstly to understand what these are and how they can affect the value; also taking into account the different ways in which you can sell your bike.

Our in-house team of bike buyers are highly experienced in determining the true value of a motorcycle, with years of experience in the industry, and our overall aim as a business is to take the hassle out of selling your bike, offering a fair and honest valuation.

The bottom line is that a motorcycle is worth what someone is willing to pay (either privately or through a dealer), however there's factors to look at to assess an approximate value.

With our expertise, below we'll walk you through how to determine the value of your bike and look at the options for obtaining an accurate valuation.

Since starting up almost ten years ago, we've valued and bought thousands of motorbikes and have grown to become the UK's largest motorcycle buying service and our specialist valuations team are always happy to help answer questions around how they reach the price for an offer to be made.
Valuing a motorbike…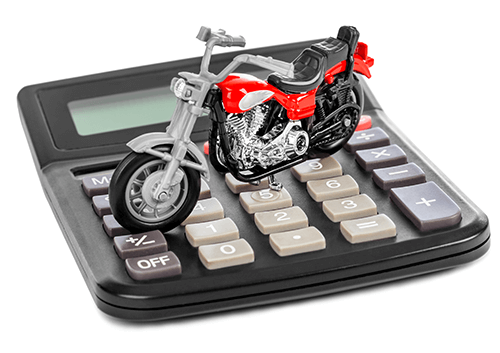 Since starting up almost ten years ago, we've valued and bought thousands of motorbikes and have grown to become the UK's largest motorcycle buying service and our specialist valuations team are always happy to help answer questions around how they reach the price for an offer to be made.
When it comes to determining how much your motorbike is worth, it's common for us to look at the following areas:

– Motorbike Make & Model
– Age
– Mileage
– Service History
– Motorcycle Condition
– Modifications
– Demand
– Time of Sale
To give you a deeper understanding as to how a motorcycle is typically valued, let's look at these factors in a little more depth:
Motorbike Make & Model

It goes without saying that the make and model of a motorcycle affects the value; given that a resale price will be based, in the first instance, upon the current market value (or book price – the industry-accepted price for your make and model).

A model which was cheaper when bought as new will, of course, be worth less than one which was a higher end to begin with, however it must be remembered that this is just a starting point; with many other factors coming into consideration when establishing how much a motorbike is worth.

The value of a bike often takes a noticeably steep decline once new models are released; with many manufacturers doing so at the big shows in the winter months.

If you're considering a model upgrade, you may find you're able to get a better resale price by selling before a model becomes dated; with a rough guide being around two years old is when a 'current model' may be seen as becoming dated.


Mileage

Mileage is one of the most common factors that can influence the value of your motorbike and the important consideration here is how this compares to the average mileage of a similar model of a similar age.

Bikes typically average around 4,000 miles per year and, whilst this is by no means set in stone, should be used as a guide to determine whether your bike, for its age, has done more or fewer miles than would be expected.

It's only natural for a buyer to judge a bike based partly on its mileage, however it's important not to forget that a bike in great condition with a full service history is still more attractive to a buyer than one with lower mileage but in poor condition and no or an incomplete service history.

Regardless of other factors, however, always be mindful that a bike with a higher mileage will attract a resale value lower than the same model, in the same condition, with lower miles on the clock.


Essentially, the less miles you clock up on your bike, the more its value will increase when it comes to selling.

Condition

Perhaps it's a given, but one of the most obvious things which affects the resale value of a motorbike is it's condition.

A bike which is in great condition will, undoubtedly, attract a higher value than one which is in poor condition. It's all about the appeal to a buyer and one which has been well looked after is an easier sell than one which is poorly presented.

The good news is that, for most motorcyclists, their bike is their pride and joy; something which ultimately means it's well looked after and still in pristine condition years after purchase.

Other things to take into consideration when it comes to appearance, however, is the perceived condition; and by that we mean keeping your bike clean!

There's no excuse when selling a bike to present a dirty bike; one which hasn't been cleaned and given some TLC. Little things like cleaning and detailing as well as lubricating the chain are simple tasks which can make a bike more attractive to buyers; whereas a dirty bike which needs small maintenance tasks carrying out upon purchase are likely to result in a lower resale value.

One thing which you do need to carefully think on, however, is the outcome if your bike has suffered a few minor cosmetic issues; perhaps the odd scratch or dent.

Even the most-loved motorbikes can fall victim to the odd cosmetic issue but, whilst still perfectly rideable, this can significantly reduce the value.

Always look at the cost to repair or replace any light or cosmetic damage and weigh it up against the difference in valuation should you sell in its current condition. At the end of the day, if the cost of repairs is more than the increased value, you may be better off declaring the damage and letting the new owner carry out the tasks.

Always be transparent and fully open about anything which may affect the value condition-wise.


As you would expect, any damage (superficial or mechanical) is going to bring the value of the bike down, as repairs will likely need to be carried out before it can be sold on to a new owner, while a bike that's been kept in near mint condition won't have any value knocked off.

Age

Age is a difficult factor to consider; based around the fact that there's a common misconception that all bikes will lose value over time.

Whilst that may be true to a certain extent, this aligns with the reality that older bikes typically have higher mileage and are in poorer condition than one which is of a lower age. On this ground, newer bikes obviously have a higher resale value than older ones.

The rate of depreciation varies between models, but it's important to remember that even if your bike has been kept in excellent condition, its age will still have a bearing on its resale value.

If you're the proud owner of a classic or collectors bike, however, you may find that the bike's value increases with age.

You can learn more about investing in classic motorbikes here.


Service History

Regularly having your motorcycle serviced can do much more than keeping it in great running condition; it can also help to maintain value.

When it comes to the resale value and understanding how much a motorbike is worth, one with a full service history will typically be in a position to command a higher asking price than one with either an incomplete or no history.

It always pays to keep a full service history and keep hold of all paperwork. It may seem unnecessary at the time but you'll be glad you do when you come to sell.

Demand

It's really important that you understand the market demand for your model of bike as this can have a significant impact upon the resale value.

Whilst no means indicative of the value of your particular motorcycle, it's always worth spending a little time browsing the web to determine what else is for sale. If you find there's a large number of similar bikes being sold on eBay and the like, it could mean that there's a supply greater than the demand.

On the other hand, if you're struggling to find many similar models, there's a good chance that it's the opposite way round and that the model is in demand.

This is particularly important if you're looking to sell a rarer model where buyers may be prepared to pay a little more to secure their dream motorcycle.

Time of Sale

We also need to take into account how many other people have owned the bike in the past. Generally, more owners mean less value for the bike, but it might not always have that much of an impact.

Closely tied to demand, it's important to understand that the time of year when you're looking to sell can have an impact upon the value; based on the grounds that many leisure riders are riding their bikes from the Spring until Autumn months before parking up in a garage for winter.

Whilst less bikes are bought in the Winter months, there's also a lot more being sold in the summer months, pushing up supply levels.

A rarer bike will be less affected by 'seasonality' than a more common model, you may be better off looking to sell when demand is high and supply is lower.


Previous Owners

We also need to take into account how many other people have owned the bike in the past. Generally, more owners mean a lower value for the bike, but it may not always have that significant an impact.

If you don't know how many owners the bike has had, you should be able to find this in the vehicle's logbook.

Warranty

If your bike is still relatively new, there's a good chance that it's still under warranty, which could actually add to its value.

More manufacturers are offering extended warranties now, so this is definitely worth checking.

Modifications

Most motorcyclists buying a second hand bike would favour it to be as near to its original condition as possible.

Modifications are typically a personal preference and one in its original stock condition will often attract a better value.

That doesn't mean to say, however, that you can't modify your bike. Simply be sure to keep hold of the original parts and return to stock condition before selling. You'll also then be able to sell the aftermarket parts separately and bring in a little extra cash.

Extensive modifications which cannot be reversed, such as custom paint jobs, ultimately narrow down the market of buyers and make for a harder sale; always consider carefully when opting to make these mods.

It's also worth noting that, when it comes to older bikes, those in original stock condition are typically favourable in the instance where factory spare parts are no longer available.


If you're looking for a quick motorbike valuation and an answer to the question of how much your motorbike is worth, We Want Your Motorbike is proud to offer a no-obligation, hassle-free valuation.

Simply enter your bike's reg and a few details and we'll be back to you with a value and a cash offer in no time at all; with an option to complete a sale within 24 hours.
Alternatively, read on for more tips on getting your bike ready to sell.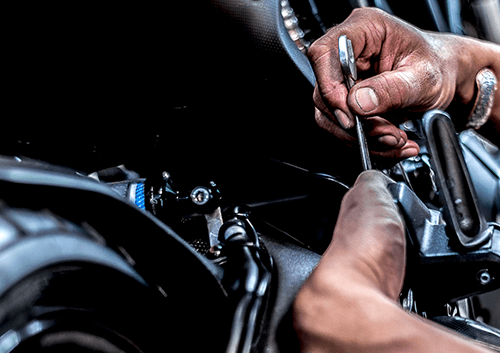 Expert Tips/FAQs

I can't find my bike on your website, can I still have it valued?

We will value most bikes, but we only hold data on our site for those that were manufactured in the UK, manufactured since 1982. If either of these conditions doesn't apply to your bike, give us a call on 01625 353 014 or email us at info@wewantyourmotorbike.com and we'll get back to you with a valuation.

What if my bike has private registration plates?

Unfortunately, because we don't specialise in private plates, we don't place a higher value on your bike if you do have them, although we're still more than happy to buy them.

Do you value motorbikes that are non-runners?

Unfortunately, no we don't.

I received a valuation some time ago, is it still valid?

Because the motorbike market changes on a daily basis, we can only guarantee our valuations for up to seven days.

Do you value imported bikes?

As long as your bike is registered in the UK, yes we can value it, but bear in mind that models and specifications vary from country to country, so the price may differ to that of a UK supplied bike.

Will modifications affect the value of my bike?

Chances are that, yes, modifications will affect the valuation that we put on your bike, so it's important that you make a note of any and take photos if possible and then them to info@wewantyourmotorbike.com.

What if I fail to provide full details of my motorbike's valuation?

If you don't provide us with an accurate description of the condition of your motorbike, this our motorbike experts will pick up on any discrepancies during their inspection and may have to lower the valuation.
Information Needed for a Valuation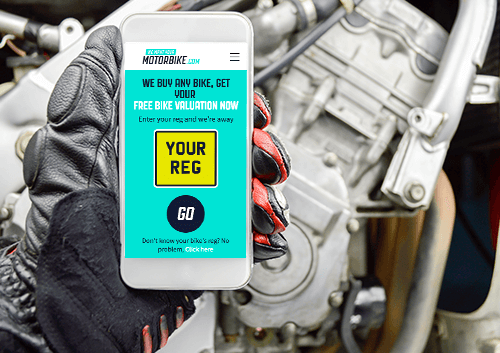 Getting your motorbike valued at We Want Your Motorbike is a very quick and straightforward process, but there are a couple of important pieces of information that you'll need to provide us with.
To begin with, we'll need your vehicle registration number, which should give us all of the information we need regarding the bike, such as the make, model, engine size and year of manufacture, but you can enter this all yourself if you don't have the reg number (we'll also need the vehicle's current mileage and how long until it will next require an MOT).
We'll then need some quick details about yourself such as your name, contact details so that we can get back to you with your valuation, and county, so we can ensure that we'll be able to come and collect the bike from you.
Finally, we need some details about the condition of the bike, such as its service history, number of previous owners, as well as the general condition of the bike.
If your bike if a sports bike, we'll need to know whether it is a race replica or not, and if it's a tourer, we'll need to know whether or not it will come with panniers.
After this, we'll be able to provide you with a valuation, but if you do choose to accept our offer, there are a couple of other bits and pieces that you'll need to provide, such as the V5 logbook, a couple of forms of identification, bank details and a finance settlement letter if the bike was paid for with finance.
Testimonials
Excellent service!
"From start to finish, the whole experience was simple and painless. The staff were a pleasure to deal with and I was offered a very fair price for my bike. Would definitely recommend to anyone wanting a hassle-free sale!"
Daniel Hall
An easy way to sell a bike!
"After a price was agreed, the bike was examined and collected without any issue. The payment was made quickly and securely, the whole transaction taking place in less than 25 minutes. How easy was that?"
Lee Cooke
Quick and painless
The driver (Andrew) was as nice a person as I could have wanted, he was on time and kept in contact throughout, he made the whole process quick and painless as it could be in the circumstances.
Barry
Fast, friendly, safe, professional service
Was looking to sell my motorbike and thought about a private sale, but this comes with some risks, so I gave these guys a try. Easy to use, fill a form online and within 15 minutes they rang me and went through the details. The offer made was a bit more than I had expected, so the sale was agreed on the Saturday and the bike was collected on Monday and the money paid direct in my bank. All staff were friendly and great service, thanks.
Andrew
Hassle free transaction
Fair price given, staff very helpful and informative, good communication, email & phone, prompt efficient collection by very friendly and helpful staff driver.
Would recommend this company.
Richard
So, if you're wondering how much your second-hand motorbike could be worth, all you have to do to get started is click the "Value My Motorbike" button above then enter a few details and we'll get to work on putting together a personalised used bike valuation for you and reply to you within the next 24 hours.